Operation Odin – Marly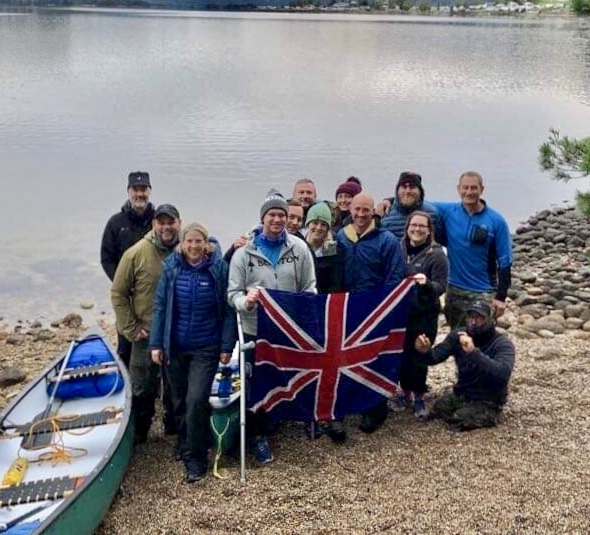 We have just returned from one of the most incredible trips ever. We landed in Norway on Friday 30th August straight into the brilliant arms of Brian who was arranging all the accommodation and equipment for the trip. Nothing was too much trouble, which is exactly what everyone needed, here we were, a group of police officers and military personnel nervous and apprehensive about what was to come and we were met with Brian's calm, unflappable approach. We sorted kit out, had a briefing then settled to evening meal and our last bed before 5 nights and 6 days of canoeing and wild camping down a fjord.
We could not have wished for a more beautiful setting. Most days were sunny and warm, with the water calm for most of the trip. Those who were nervous about the canoeing side were caught up in the team spirit and camaraderie that happened almost instantly. As a team the next morning we made our way to the top of the fjord and got out on the water to test the boats and our ability. That first night we pulled into the tree line, set up camp then went off in search of the waterfall we had seen from the fjord. It was an amazing start to the week!
Although the charity motto is we don't do sympathy, what the ambassadors for it and the rest of those on the trip did was show compassion, a sense of humor and a desire to allow people to start to challenge themselves and begin the process of seeing exactly how much they were capable of! Many overcame fears and apprehension over the challenge to become vital members of the team, listening to each other and supporting everyone to do their best. Everyone managed the whole canoe, camping and living wild experience. It was incredibly powerful watching what these people who are suffering can do. It was even more powerful to see them realise what they were capable of and form friendships for life.
Pilgrim Bandits has given these people hope for their future, friends for life and a support network of people who know that they are going through who they can turn to in the future when they need to. This has been an invaluable experience and I cannot thank Pilgrim Bandits and the staff on the trip who made it all possible for giving us this experience of a lifetime

Marly