In September 2020, Police Sergeant, husband and father of four, Laurence East received the devastating news that he has incurable, stage four Pancreatic Cancer. Yet, since the day of his diagnosis, he hasn't stopped in his quest to push always a little further, inspiring all those around him as he does so.
Pilgrim Bandits is pleased to have been able to support Laurence during his difficult time through our Curtis Palmer Program. The Program was set-up to support emergency services personnel that are living with injuries, illnesses and mental health conditions, by pairing them up with injured veterans who have previously been supported by Pilgrim Bandits – helping them to continue living life to the full. The charity was delighted when Laurence accepted an invite to join the Program members on a team-building trip to Devon earlier this year and again, more recently, our Pen Y Fan challenge.
In this article, Laurence candidly talks to us about his illness, how treatment is affecting his daily life and the support he has received from the Curtis Palmer Program. He also tells us about his impressive fundraising challenges; to climb the UK's three highest peaks in 24 hours and an impressive weekly Shield Run…
A Family Man
"I have been married for twenty years having met my wife – a Nurse – at University back in 1997. We got married in 2001 and in 2002 I joined Thames Valley Police to support the family and life we both yearned for. Since then, we have had four children; two boys first and then two girls. That has been my life for the past 18 years, supporting my wife, parenting the children and working within TVP."
Joining the Police Force
"In November 2002 I put on my uniform and was sworn in to serve the Oxford community; Police Constable 74. I spent four years as a Response Officer and during this time completed my public order training and specialised as a Police Medic within this arena. I then ventured into the world of covert policing, between this surveillance world and public order events, I worked all over TVP and the UK on mutual aid. In 2012 I returned to a uniform role in Oxford and was the first wave of non-firearms officers to carry a Taser. In 2019 I passed the promotion exam and became a Substantive Sergeant at the start of 2020.
"Throughout my career, I have been fortunate to be awarded four commendations: an area commendation, a Chief Constable commendation, an Autism award and a commendation from the Royal Humane Society. All was going well…"
Laurence's Diagnosis
"Life got turned upside down in September 2020. I had no huge symptoms: tiredness, weight loss and some gastro problems. Following an acute episode and trip to A&E, a CT scan revealed the lesions. Incurable and inoperable metastatic acinar cell carcinoma of the tail of the pancreas with liver and retroperitoneal nodal metastases. Boom. 43 years old. In the Consultant's words, 'this will significantly shorten your life'. The only treatment option is chemotherapy, every two weeks for three months, a scan to assess and then repeat – a palliative measure. I was given a predictive prognosis of eighteen months to two years. 
"I get scanned every three months and as long as the chemo continues to work, I will continue to have it. Currently, I have responded well to treatment and the primary tumour has been reduced to half the original size. That said, chemo is an all-out assault on your body, attacking the cancer cells but also healthy cells so I have a cocktail of drugs to lessen the effects. I now have chemo induced neuropathy in my hands and feet – the nerve endings have been killed so I have no fine motor skills. I also have lost that sense of touch, making basic tasks like picking up small items difficult and falling down the stairs is a regular occurrence. I essentially have permanent numbness and pins and needles. However, it is a small price to remain alive. The hardest thing has been accepting my diagnosis mentally and then trying to explain it to my children – that is brutal."
Finding the Curtis Palmer Program
"To date, the Curtis Palmer Program has taken me to Devon for a weekend of team-building activities at Skern Lodge and to take part in the Pen Y Fan challenge – climbing the highest peak in southern Wales. The activities were great, but meeting people like injured veterans Ben Parkinson, Jamie Hull and Tyler Christopher is what has benefitted me the most. Their stories are so remarkable and their attitude towards their injuries and life was just incredible. Such strong people mentally, it's difficult not to be inspired. I also really enjoyed that they were a part of the weekend, that it was possible to sit and talk with them as opposed to them just doing a speech and going home – It was brilliant.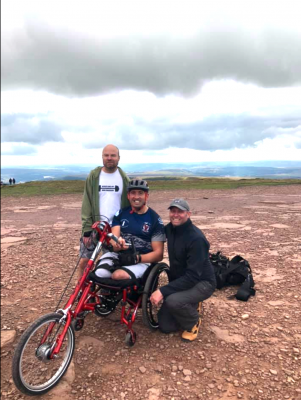 "Last week, I was also part of the Curtis Palmer Program team doing the National 3 Peaks Challenge – this has been on my bucket list for 10 years. The 3 peaks were simply amazing. The peaks themselves are just mesmerising, almost mythical places, beautiful and frightening making you realise how blind we are to the magnitude of nature on a day to day basis. I hugely underestimated how physically demanding the challenge would be, Ben Nevis broke me agitating an old knee injury, I was very emotional at the bottom exhausted and in pain. However, the other brilliant factor of this challenge was the team. A group of essentially strangers that came together to beat the beast. No one wants to let anyone down and everyone will do anything they can to get the others through, simply brilliant. A fantastic experience that was a privilege to be part of.
Ish [Inspector Isherwood, the Curtis Palmer Program Lead] has also generously said that my eldest and I can have a spot on the trip to Norway next summer. I cannot explain how excited I am about this. I am indebted to the Curtis Palmer Program and hope that I can give back on future courses that Pilgrim Bandits runs.
"In an ideal world, I'd like everyone to embrace their mental health, so they look after themselves. My wife was diagnosed with PTSD following the death of her mother and it was only when she acknowledged how ill she was that she was able to tackle her demons. The five principles from the NHS are core to all that we do through the Curtis Palmer Program:
1. Connect with other people
2. Be physically active
3. Learn new skills
4. Give to others
5. Pay attention to the present moment (mindfulness)
"But it is very much an individual road. The Curtis Palmer Program is spreading this message and taking people on a journey of self-discovery that can only be beneficial. This is why donations are invaluable to support the work done."
Laurence's Shield Run Fundraiser
"The shield run was part of our public order training when I first joined the police (it has been replaced by the bleep test now). Back then, it was a 500m run to be completed within three minutes and 30 seconds. Last November Pancreatic Cancer UK did an awareness month based around the number 24 because 24 people a day die from this cancer type. So, I did 24 shield runs, a mile a piece in full riot kit with my eldest son and on the last one we went to the training centre and ran with two full PSUs and the mounted section, over 50 officers.
"Essentially, I plan to do this again, however on this occasion 74 miles, doing one a week at stadiums around the country. Both my sons are going to join me this time. Reading, Oxford, Wycombe and Maidenhead have all said we can come to their stadiums so far. The first took place on 1st September at Oxford's Kassam stadium [pictured] – all the dates and locations can be found on my website."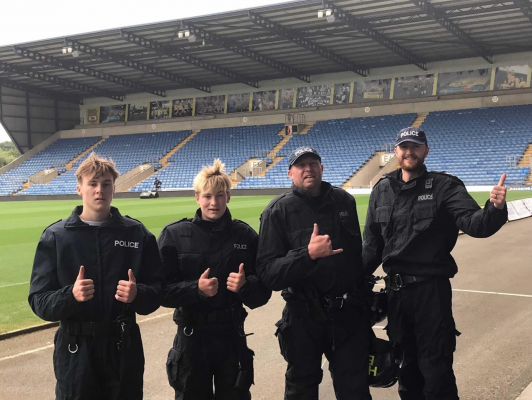 Always A Little Further
"My philosophy has always been to tackle any challenge head on, they rarely go away, so why shy away from it? But to my colleagues, I would say that mental health is no longer the elephant in the room, talk about it, recognise it and get the help you need. The Curtis Palmer Program not only organises brilliant weekends, but the network of people involved is invaluable to anyone suffering.
"From a personal point of view, I keep setting myself daft challenges for two reasons, firstly I want to, indeed have to, give myself a reason to get out of bed and out of my house each day. It would be very easy to slump into a deep depression of woe is me with terminal cancer. Secondly, to show to my children and family that it doesn't matter how big the challenge is, if you believe it, you can do it. I hope they take this attitude in all aspects of their life."
All of us at Pilgrim Bandits and the Curtis Palmer Program wish Laurence all the very best with his upcoming challenges. Let's all get behind him and support him on his way. You can find out more here.