At Pilgrim Bandits, we depend on the hard work of our loyal and dedicated coordinators and volunteers. They regularly go 'Always A Little Further' to help raise awareness and vital funds for us and make what we do for injured servicemen and emergency service personnel possible.
We spoke to Terry Arnett, Pilgrim Bandits Coordinator for the Midlands. He discusses why he is proud to support the charity and provides helpful advice for others who might be considering volunteering with us.
"My name is Terry Arnett and I am 53 years young, born and raised in Coventry and still live there with my wife Michelle. I have three sons: Mike, who is married with two sons of his own, Tom (18 years) and Joe (15 years). My family are part of the Pilgrim Bandits team, they have all given up their time and contributed to fundraising events over the years; organising balls, standing in all weathers outside at events and, more recently, taking part in virtual fitness events during the COVID lockdowns."
The Pilgrim Bandits Mascot, 'Bandit'
"Professionally, I was a serving Police Officer for thirty years with West Midlands Police, spending most of my service on the Dog Unit until I retired in 2017. The Dog Unit gave me the opportunity to name a dog bred at the school, 'West Mids Pilgrim Bandit'. 'Bandit', as he is more commonly known, retired in 2019 and due to my connection with the Pilgrim Bandits, I was fortunate to re-home him as our family pet. I am now employed as the Chief Instructor for Dog Training with Warwickshire Police in a Civilian Police staff role."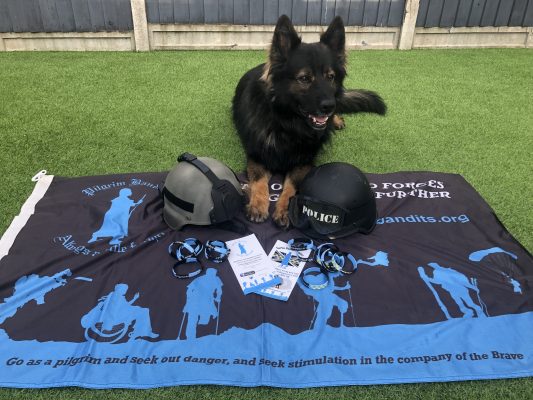 Why Pilgrim Bandits?
"My journey with Pilgrim Bandits has been for over ten years now. As I recall, it all started with someone sign-posting me to the charity's website due to my association with some that were serving at that time within the military. Also, as I had been fundraising for other charities previously and had a drive to do my bit and help. Coincidentally, we were visiting the area where the charity is based and met 'the Boss', Mike and the rest is history really!
"I was drawn to the charity due to the fact that it was not like all the other charities at that time, money raised was clearly going to help those in need and not wasted on administration and running costs. You could clearly see the effect that it was having on those it helped. Ironically, today I visited the Tank Museum at Bovington and within a video played there, it shows an interview with Ben Parkinson MBE, Patron of Pilgrim Bandits. The video doesn't resemble the man I know today – he has overcome so much and that's all because of the support he has received from his immediate family and the Pilgrim Bandits family."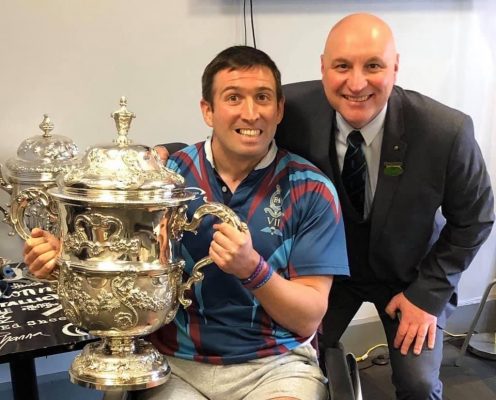 The Active Role of a Coordinator
"I'm immensely proud to be the 'Midlands Area Coordinator' for Pilgrim Bandits and also part of the Airsoft community, a very generous group of people that have adopted the charity and me over the past few years. They have helped with fundraising games, auctions and second-hand kits sales. I have many people to thank from the Airsoft Community, too many to mention, so I'm just going to say 'thank you one and all and long may your support continue!'.
"I have had a fantastic time as a Pilgrim Bandits Coordinator, I have met some amazing people, some childhood heroes and gained some friends for life, but they are a bonus! If I hadn't had the opportunities I have had, attending and organising some wonderful charity balls, assisting in gaining the world record for tandem skydiving, being at the celebrations when Ben Parkinson got his MBE, meeting some that took part in the Iranian Embassy siege, escorting Ben into the ring at Crufts to present the Friends for life trophy, then what else would I do with my spare time?"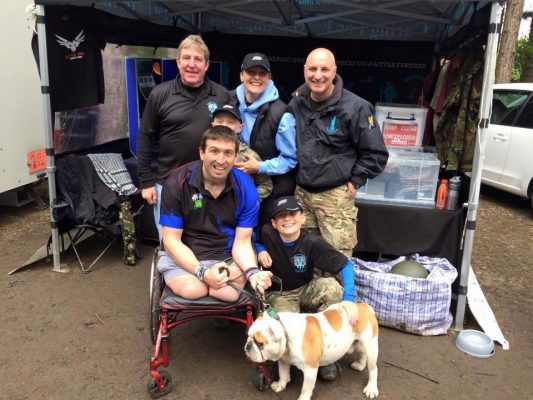 A Pioneering Charity
"In the last couple of years, we have also had the development of the Curtis Palmer Programme, and how valuable this is, again as a small charity we have pushed our mantra 'always a little further' by taking the skills of our military veterans to help coach better mental health and wellbeing with the emergency services. For me personally, this is a brilliant vision and, again, where we as a charity were first to reach out to support in this remit."
Getting Involved
"Over the past few years, I have had lots of messages from people offering to help at events. This is great, but unless we have something like a bucket collection at a football stadium, generally it's difficult to task people. I often think when you're volunteering, ask why? Why are you doing this? What are you hoping to achieve? If the answers are something like mine, to do your bit, then start like I did, decide upon your own event, run with it, organise it, plan it and execute it. And, ask us for help. We will do all we can humanly do to support you with gazebos and banners etc. Then, when you've done one, do another and another! Before long you'll be like the rest of the reps, part of the wider Pilgrim Bandits family."
We're currently looking for Coordinators throughout the UK to organise and oversee fundraising activities for Pilgrim Bandits in your local area. This is a voluntary role and we're looking for people with plenty of initiative, drive and fundraising ideas. If this sounds like you, please get in touch. We look forward to hearing from you!