Martyn has been a member of the Pilgrim Bandits since 2010. Having joined us on numerous events and expeditions, kayaking, cycling, sky diving and most recently the epic Everest Base Camp Expedition.
We have also been able to assist him with gaining his Mini Bus licence, enabling Martyn to gain extra work opportunities and establishing more of a routine to daily life.
Driving is one of Martyn's passions, having tried go-karting at Headley Court during his rehabilitation he progressed into motorsport where Martyn has set up his own racing team with another veteran.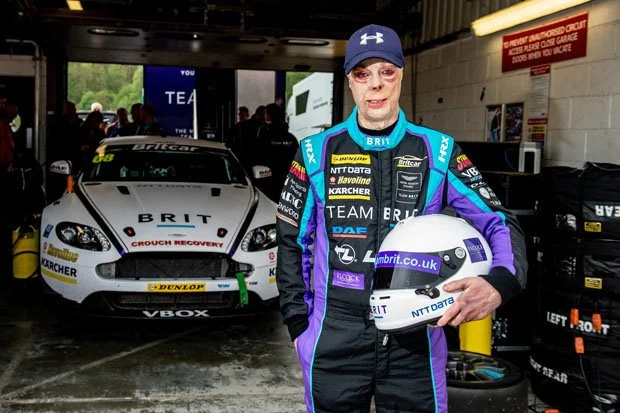 ---
Martyn's Story
Martyn joined the British Army in 2000 in the Household Cavalry. In August 2006, he was badly injured in Afghanistan. When out on a two-day mission through a built-up area, his troop of small tanks was ambushed. Taliban forces surrounded them as they tried to withdraw, setting off an improvised explosive device (IED).
The tank Martyn was in was blown in half and the rest of his crew were killed. The tank then came under fire from rocket propelled grenades (RPG), which engulfed the remains of the tank and Martyn in flames. He managed to pull himself out of the driver's seat and get to cover. After putting himself out, he was then shot twice in his right leg. Martyn remembers little of his rescue, waking up four months later in the UK.
Martyn recalls: "I was in Headley Court from the end of February in 2007, which was a rehabilitation centre for injured veterans. I've got 75% burns to my body and my leg had been injured, so I had to learn to walk again. I needed extensive physiotherapy for my scars, and underwent around 500 hours of specialist surgery. That was my life until 2010 when surgery was less frequent. I was diagnosed with PTSD in 2010, when I experienced some of my darkest days."
---
Meeting The Pilgrims 
"I was introduced to the Pilgrim Bandits by a friend and invited to an event for guys who had been injured. I found this really helpful whilst suffering with PTSD. I didn't want to go out very much, but the interaction with people who had been through similar experiences to me helped me to push all the boundaries that I wanted to push again."
"I've kayaked down the Orange River in South Africa with them and cycled across New Zealand. We always go out there as a group: we're always aiming to get the last man over the line. That's the best bit about the Pilgrims: it's all about teamwork."
"I'm looking forward to the expedition to the Himalayas because it will push me outside my comfort zone again. I've always wanted to do something like this and so I jumped at the chance to get involved. I never thought I'd be able to do this kind of thing after getting injured."
"Getting to do this expedition with other guys who have been through similar experiences is literally a once in a lifetime opportunity."
"I recommend Pilgrim Bandits to everyone. I've got so much out of my time with them. It's a small, close-knit family. You go out on these expeditions and it's all about getting each other in the right mindset to push ourselves, which is what we need. You're connected to guys all over the country who have been through similar experiences to you."
"The Pilgrim Bandits help you to push all the boundaries that you think you'll never be able to get past after injury. I went into the military because I like being outside and living an active lifestyle. I like pushing myself too. I think you lose that when you get injured and it's tough to find again. That's what the Pilgrims have given back to me."
If you would like to learn more about Pilgrim Bandits and how you can get involved, contact info@pilgrimbandits.org